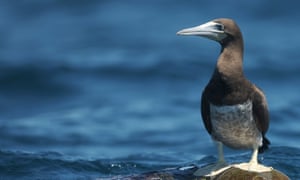 A brown booby like this one, photographed near Los Cobanos beach in El Salvador, was spotted at St Ives by a Cornish birder on Monday. Photograph: Jose Cabezas/AFP/Getty Images
Hundreds of birders have flocked to Cornwall to seek what could be the first ever UK sighting of a brown booby.
The large, yellow-footed seabird is usually found fishing in tropical waters on the far side of the Atlantic, around the Caribbean and Venezuela.
A local birder reported seeing a suspected brown booby while he was relaxing with his family on the beach at St Ives on Monday. The bird was photographed on Tuesday by Keith Jennings, a birdwatcher and electrician who travelled from Gloucestershire to find it.
The brown booby surprised birders by loitering around the beaches of north Cornwall for five days, fishing close to the surf at Hayle on Thursday.
Mark Grantham, the chair of the Cornwall Bird Watching and Preservation Society, said: "These really rare seabirds do turn up but they are quite tantalising – so often they drift by and are seen for a couple of minutes and then they are gone. The fact that this bird has hung around is going to draw a lot of people."
Did this red-footed booby really fly all the way from the Galapagos to the UK?
Hundreds of birders gathered around St Ives Bay to catch a glimpse of – and photograph – the bird, which has been attracted to bait fish found in the bay at this time of year.
But the brown booby was proving elusive on Friday, leaving many newly arrived birders disconsolate.
James Lowen, a nature writer and wildlife guide, drove 425 miles overnight with two friends to try to catch a glimpse of the bird, gathering on the dunes before dawn to train their telescopes on the sea.
"It's never been seen in Britain before and rarity is always exciting," he said. "I've seen it in the Caribbean 20 years ago but seeing it over this side of the Atlantic would be a real red-letter day. We're having a lovely time sunbathing in the Cornish sunshine and there is that lure of pasties, but some birders are rather disconsolately packing up and leaving. Perhaps we'll be lucky at some point."
While rare North American warblers blown to Britain are likely to die without ever returning home, the brown booby stands a fair chance of finding its way back across the Atlantic, according to Grantham.
He said: "It is lost but it is completely in its element – it's a seabird and it's at sea. Seabirds can fish as they travel and east-west journeys are easier to manage than north-south. It is still in the right ocean and the right hemisphere so it could potentially make it back."
A brown booby was spotted in Brittany, France later on Friday, with the birders in Cornwall believing it to be the same bird. "Time to pack up," said Lowen on the Cornish coast.
The Cornish brown booby's status as potentially the first ever sighting in the UK may be disputed, however, because since the sighting other birdwatchers have revealed what they suspect may have been another brown booby, flying off the coast of Kent earlier in August.
As the crisis escalates…
… in our natural world, we refuse to turn away from the climate catastrophe and species extinction. For The Guardian, reporting on the environment is a priority. We give reporting on climate, nature and pollution the prominence it deserves, stories which often go unreported by others in the media. At this pivotal time for our species and our planet, we are determined to inform readers about threats, consequences and solutions based on scientific facts, not political prejudice or business interests.
More people are reading and supporting The Guardian's independent, investigative journalism than ever before. And unlike many news organisations, we have chosen an approach that allows us to keep our journalism accessible to all, regardless of where they live or what they can afford. But we need your ongoing support to keep working as we do.
The Guardian will engage with the most critical issues of our time – from the escalating climate catastrophe to widespread inequality to the influence of big tech on our lives. At a time when factual information is a necessity, we believe that each of us, around the world, deserves access to accurate reporting with integrity at its heart.
Our editorial independence means we set our own agenda and voice our own opinions. Guardian journalism is free from commercial and political bias and not influenced by billionaire owners or shareholders. This means we can give a voice to those less heard, explore where others turn away, and rigorously challenge those in power.
We need your support to keep delivering quality journalism, to maintain our openness and to protect our precious independence. Every reader contribution, big or small, is so valuable. Support The Guardian from as little as £1 – and it only takes a minute. Thank you.