220330 | Covid: Record 4.9 million people have the virus in UK | Cornwall 141% more cases than England average
Submitted by via covid.joinz... on Mon, 04/04/2022 - 10:35.
Covid: Record 4908900 people have the virus in UK
Cornwall and Isles of Scilly
In England, the percentage of people testing positive for coronavirus (COVID-19) continued to increase in the week ending 26 March 2022; we estimate that 4,122,700 people in England had COVID-19 (95% credible interval: 4,013,600 to 4,228,300), equating to 7.56% of the population or around 1 in 13 people.
---
Up until the turn of the year, the testing system was picking up about half of the estimated total number of infections. In recent weeks, that has dropped to under a quarter.
---
Covid: Record 4.9 million people have the virus in UK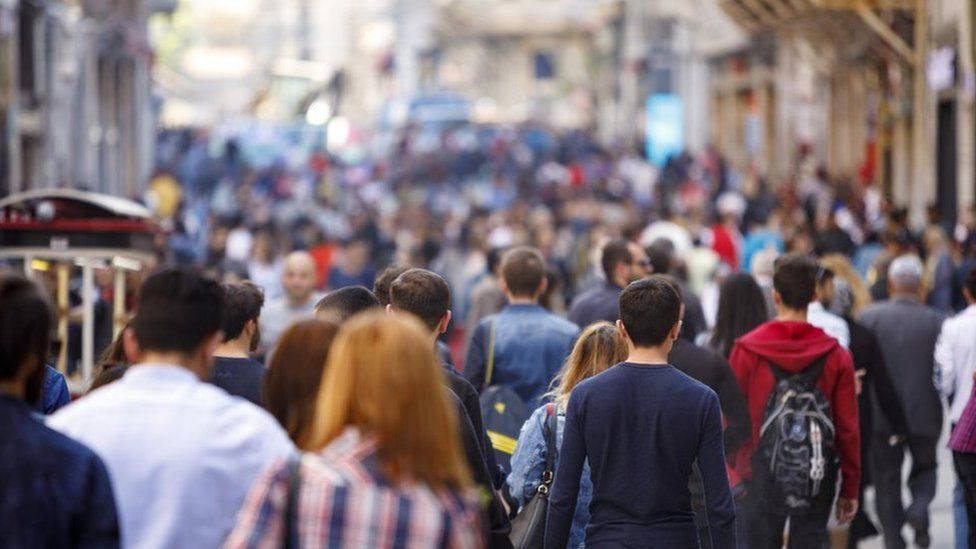 Image source,

Getty Images
That is some 4.9 million people, up from 4.3 million people the week before.
ONS officials say that is the highest number seen since its survey began at the end of April 2020.
The surge in infections is being driven partly by the contagious Omicron BA.2 sub-variant and people mixing more.
The figures for the week ending 26 March are thought to give the most accurate reflection of what's happening with the virus in the community.
The ONS survey tests thousands of people randomly in households across the UK - whether or not they have symptoms.
Kara Steel, senior statistician for the Covid-19 infection survey, said: "Infection levels remain high, with the highest levels recorded in our survey seen in England and Wales and notable increases among older age groups."
The government's "living with Covid" plan means free testing will only continue for certain groups - including some people with weakened immune systems, people admitted to hospital and health and care staff.
In general people who test positive for Covid are now advised to try to stay at home for five days and avoid contact with others.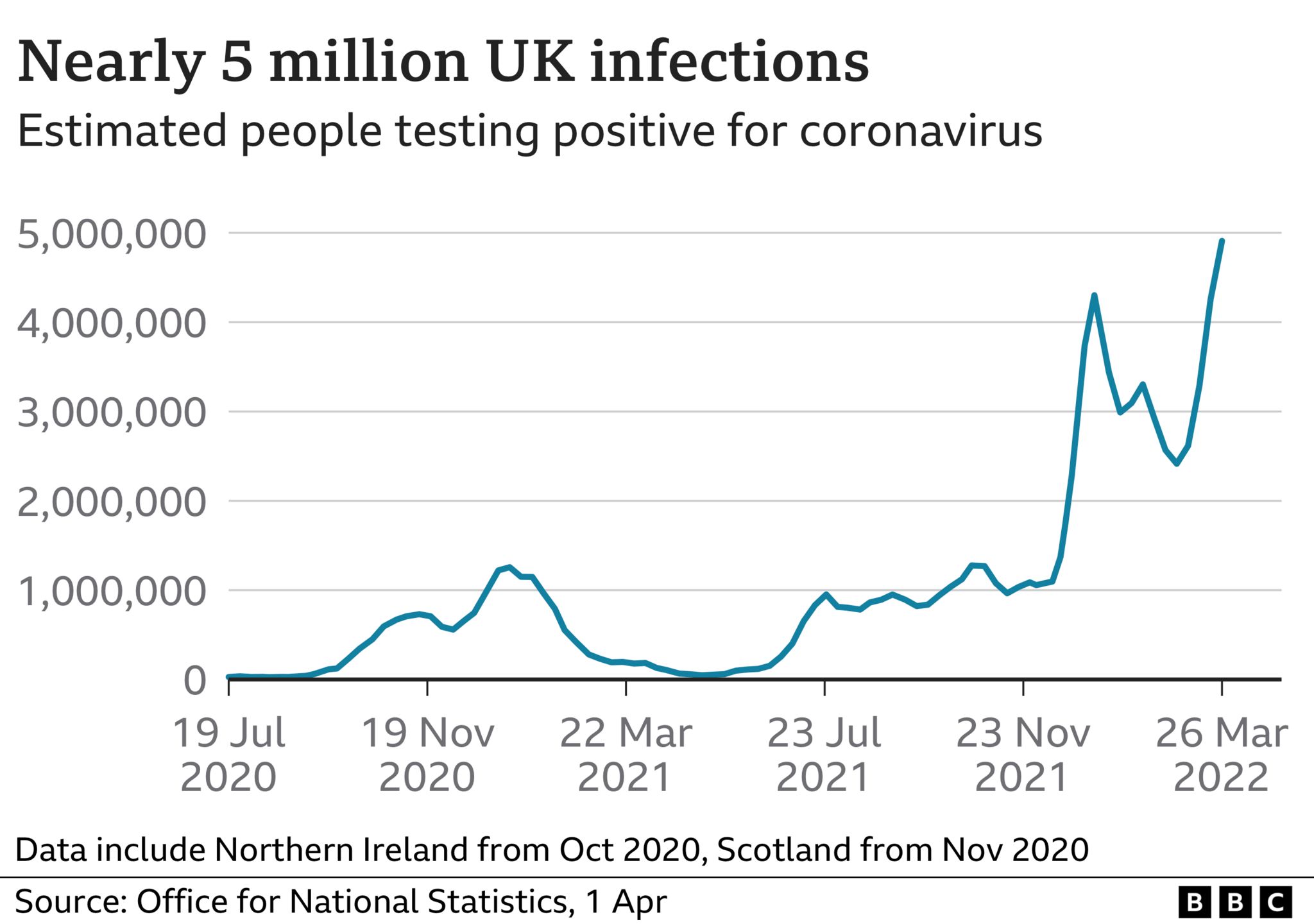 Estimated infection rates across the nations showed:
One in 13 people in England had coronavirus - about 7.6% of the population, up from 6.4% the week before
One in 14 people in Wales - or 7% of the population - up from 6.4% the previous week
One in 12 people in Scotland - or 8.6% , down from 9% the week before
One in 15 people in Northern Ireland - or 6.7% of the population, down from 5.9% the week before
In England and Wales infections continued to rise, while overall trends in Scotland and Northern Ireland were uncertain.
The number of people in Covid beds in hospitals has returned to January 2022 levels, data from NHS England suggests.
But there is a key difference - in January about 56% of people in Covid beds in hospitals were being treated mainly for their Covid, but as of Tuesday (29 March) that figure is down to about 44%.
And the number of people being treated for very severe Covid infections and needing intensive care remain low - as vaccinations continue to protect people from severe disease.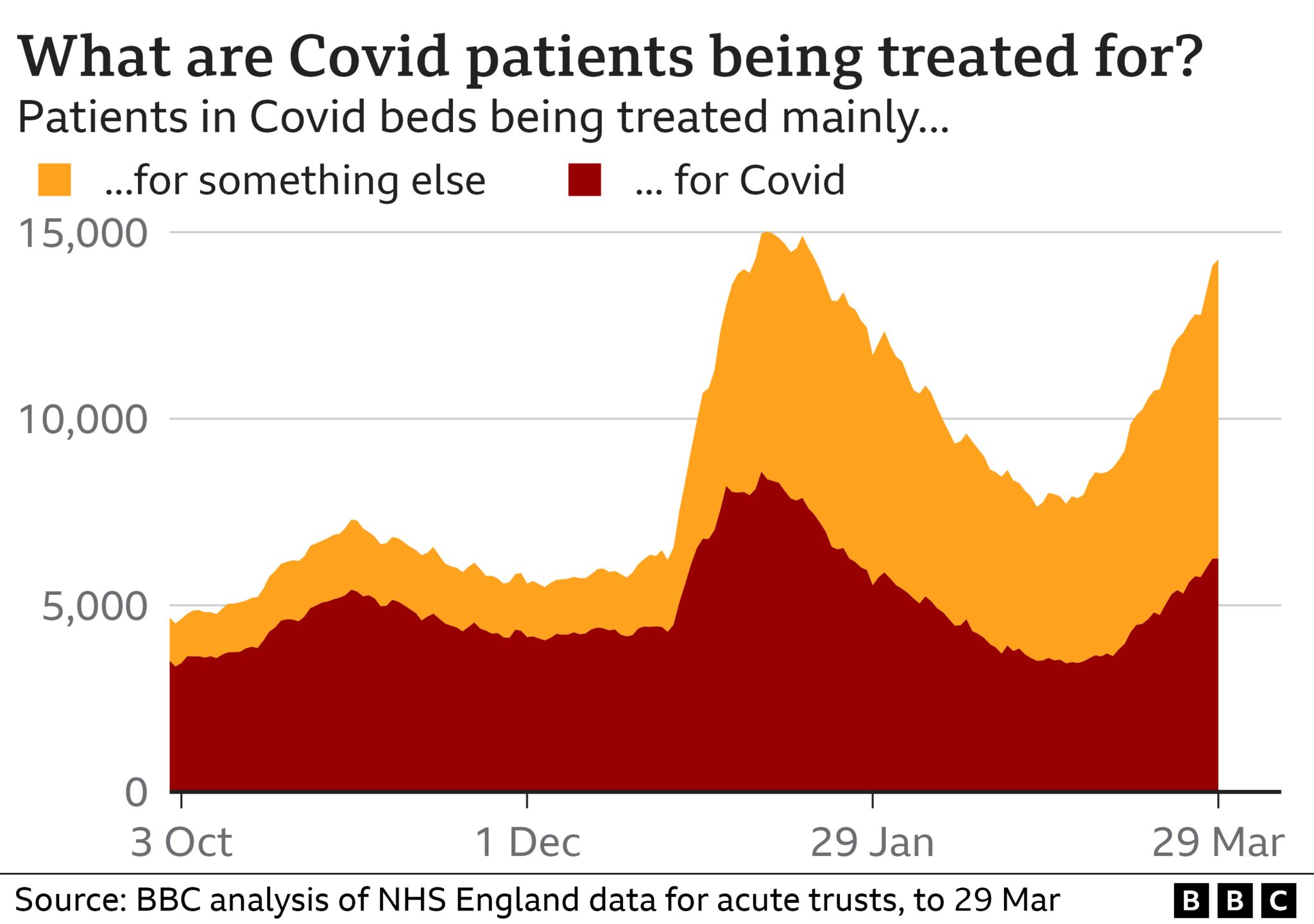 Rates in older people continue to be a concern.
On Thursday, Prof Sir Johnathan Van-Tam, speaking on his last day as England's deputy chief medical officer, said protecting older age groups kept him up at night.
At a Royal Society of Medicine conference, he said: "Case rates here in the UK are really, really high and hospitalisations in London, for example, are becoming exceptionally high again.
"And what keeps me awake at night is whether the people we have called - over-75s - for their second booster dose are going to come forward really rapidly and really quickly in the next few days and weeks, because it is going to be important."
People aged over 75 and those who have weakened immune systems can book a spring booster jab to top up their protection against the virus.
---
Table 1: Official estimates of the percentage of the population testing positive for COVID-19, UK countries


Estimated percentage of the population testing positive for coronavirus (COVID-19) on nose and throat swabs, UK, 20 to 26 March 2022

Country
Estimated
average
% of the
population
testing
positive
for
COVID-19
95%
credible
interval
Estimated
average
number
of people
testing
positive
for
COVID-19
95%
credible
interval
Estimated
average
ratio of
the
population
testing
positive
for
COVID-19
95%
credible
interval
 
 
Lower
Upper
 
Lower
Upper
 
Lower
Upper
England
7.56
7.36
7.75
4,122,700
4,013,600
4,228,300
1 in 13
1 in 14
1 in 13
Wales
6.97
6.24
7.73
212,000
189,800
234,800
1 in 14
1 in 16
1 in 13
Northern
Ireland
6.70
5.77
7.68
123,000
105,900
141,000
1 in 15
1 in 17
1 in 13
Scotland
8.57
7.89
9.27
451,200
415,500
487,900
1 in 12
1 in 13
1 in 11